i2 Tips og tricks: Field Calculator-funktionaliteten i i2 iBase
I denne tips og tricks-artikel ser vi nærmere på Field Calculator-funktionaliteten i i2 iBase. Med denne funktionalitet kan du hurtigt ét sted se, hvornår transaktioner fandt sted, og hvad beløbene var.
Antag, at du efterforsker en hvidvasksag. Importorganisation Zuid-West Import- og transportvirksomheden Truck Leon SA ser ud til at være involveret. I en sådan situation er det relevant at afdække, om der har været en strøm af midler mellem de to organisationer. For at visualisere dette kan du forespørge i din i2 iBase-database. Gennem en forespørgsel kan du finde ud af, om og hvor mange transaktioner der har fundet sted mellem de to virksomheder.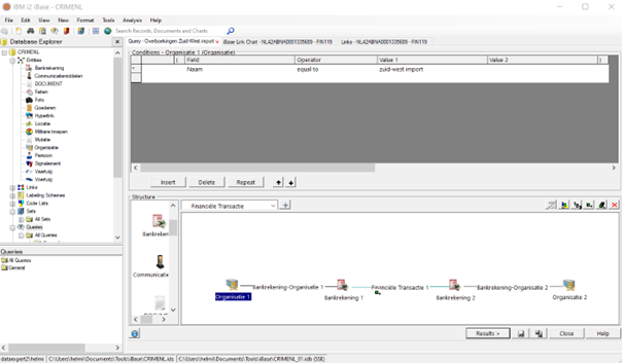 Resultatet viser, at der fandt flere transaktioner sted mellem virksomhederne. Kun transaktionslinkene vises som resultater, fordi der i forespørgslen blev valgt kun at vælge output på transaktionslinket. De øvrige oplysninger om virksomhederne eller bankkontonumre er irrelevante i dette eksempel.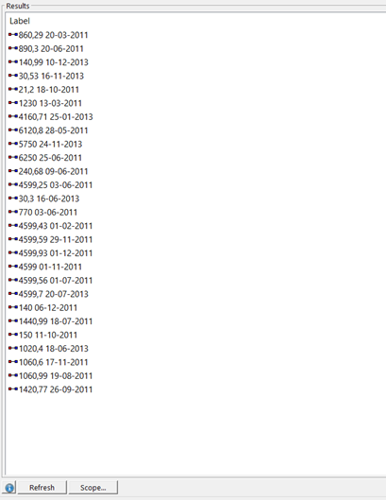 Nu, i undersøgelsen, kan der være en vis værdi i at bestemme, hvornår den første og sidste transaktion var. Det laveste/højeste/samlede beløb for overførslen kan også give yderligere indsigt til din undersøgelse. For at få et hurtigt overblik over disse data ét sted, kan du bruge 'Feltberegner'-funktionen.
Denne funktionalitet kan findes ved at gå til fanen 'Analyse' og vælge indstillingen 'Feltberegner'. En ny fane i i2 iBase åbnes derefter med skærmen nedenfor.

Funktionaliteten kan anvendes baseret på alle poster i databasen, en lagret forespørgsel eller et lagret sæt. Enheden eller linktypen skal matche det, der kommer op som et resultat af forespørgslen eller er gemt i det sæt, du vil bruge.
Da oplysninger om dato/klokkeslæt og beløb er inkluderet i forespørgselsresultaterne, har du mulighed for at hente følgende data, når du bruger 'Feltberegneren':
Efter dato:
Earliest – den tidligeste dato eller tid
Latest – den seneste dato eller tid
Efter værdi:
Lowest – den laveste værdi
Highest – den højeste værdi
Average – den gennemsnitlige værdi
Sum Of – den total sum
Standard Deviation – standardafvigelsen
I det sorte felt på billedet ovenfor kan du finde de beregnede data, baseret på forespørgslen.
Du kan nemt kopiere 'Feltberegner'-resultaterne til din rapport ved at bruge 'Kopiér til udklipsholder'-indstillingen i højre side.
Flere oplysninger om i2 iBase's muligheder? Så sørg for at deltage i et af vores i2 iBase-kurser. Klik her for mere information om disse kurser.