Kursusprogrammet Cybercime & Teams
Den kraftige stigning i cybercrime har ført til et øget behov for specialiserede efterforskere. For bedre at kunne bekæmpe denne form for kriminalitet er det vigtigt at udstyre kriminalbetjente og efterforskere med den rette blanding af kompetencer og færdigheder.
Kursusprogrammet Cybercime & Teams består af tre separate kurser, hvor hvert kursus forbedrer viden og færdigheder yderligere. Den dækker alle aspekter af efterforskning af cybercrime og digitaliseret kriminalitet.
Uddannelsesprogrammet omfatter følgende kurser:
Kurserne finder sted i forlængelse af hinanden, men er individuelt planlagt for at give deltagerne mulighed for at bearbejde materialet og reflektere mellem kurserne. Denne refleksionsproces kan fremmes af oplysningerne på e-læringsplatformen eller ved at anvende viden fra kurserne i praksis. Derudover er det også muligt at gennemføre et eller to af kurserne som en del af kurset, hvis det passer til deltagerens job.
Hvem er kurset for?
Kurset er velegnet til kriminalbetjente, der strukturelt er involveret i både enkle og komplekse cyberkriminalitetsefterforskninger, f.eks. (nye) kriminalbetjente i en cyberkriminalitet team. Der kræves ingen grundlæggende færdigheder eller viden for at deltage i dette kursus.
Hvad lærer du på dette kursus? 
Efter at have gennemført uddannelseskurserne Basic, Advanced og Professional Cybercrime, investigators kan registrere og efterforske enkle og (mere komplekse) cyberkriminelle operationer. De er i stand til at fokusere på potentielle risici for skade og på deres egen sikkerhed. Efterforskerne ved også, hvordan man opretter og støtter en fil. Du kan finde flere oplysninger om indholdet af kurserne på de enkelte kurser.
Cybercrime badge
Når du har gennemført en Cybercrime uddannelse hos DataExpert, modtager du udover et diplom eller certifikat også et digitalt badge. Dette badge er let at integrere på sociale medieplatforme som LinkedIn og er knyttet til din profil gennem de nuværende metadata.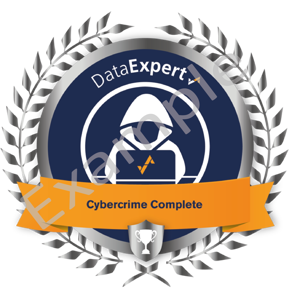 Andre oplysninger
Kurserne på dette område understøttes af DataExperts e-læringsplatform, hvor deltagerne kan lære teorien gennem både tekst og korte videoer. Desuden kan kurserne afholdes både online og ansigt-til-ansigt.