Cybercrime Professional
Cybercrime er steget betydeligt i de seneste år. Denne stigning er en af grundene til, at den Hollandske anklagemyndighed og politiet i højere grad fokuserer på at bekæmpe denne type kriminalitet. Politiet har oprettet forskellige "cybercrime" team og et "hacking" og "dark web" team. Efterforskere, der arbejder i et cybercrime team, beskæftiger sig med komplekse efterforskninger af cybercrime. Dette kursus fokuserer på at give efterforskere den viden, de har brug for til komplekse cybercrime efterforsknings.
Hvem er dette kursus for?
Dette kursus henvender sig til efterforskere, der strukturelt er involveret i eller kommer i kontakt med både simple og komplekse cybercrime efterforskning. Deltagerne anbefales at have gennemført Cybercrime Basic og Cybercrime Advanced kurserne, inden de deltager i dette kursus.
Hvad vil du lære på kurset?
Efter kurset vil deltagerne være i stand til at forstå og efterforske (mere komplekse) cyberkriminelle operationer. Ud over at retsforfølge cyberkriminelle kan det også være et ønsket resultat at afbryde en cyberkriminel proces. Derfor vil offentlig-private samarbejder og "out of the box"-tænkning også blive dækket i denne uddannelse. De emner, der behandles i dette kursus, omfatter:
Aktuelle tendenser og udviklinger inden for cyberkriminalitet.
Internationale myndigheder og retlige rammer i forbindelse med cybercrime.
Efterforskning af back-ends på f.eks. phishing-websteder eller netbutikker.
Gennemførelse af digitale forensics efterforskning af en beslaglagt server.
Gennemførelse af grundlæggende efterforskning af en kryptovaluta-sporing baseret på en ransomware-sag.
Optagelse og afbrydelse af en sag om cybercrime.
Arbejde med virtualisering ved hjælp af værktøjer som Linux Command Line og KALI Linux.
Cybercrime badge
Når du har gennemført en Cybercrime uddannelse hos DataExpert, modtager du udover et diplom eller certifikat også et digitalt badge. Dette badge er let at integrere på sociale medieplatforme som LinkedIn og er knyttet til din profil gennem de nuværende metadata.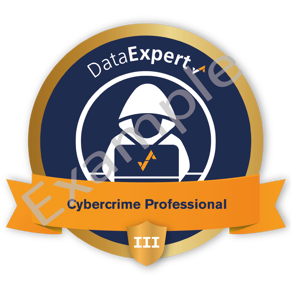 Andre oplysninger
Dette kursus er en del af Kursusprogrammet Cybercime & Teams, som også omfatter Basic og Advanced kurserne. Kurset understøttes af DataExperts e-læringsplatform, hvor deltagerne kan lære teorien gennem både tekst og korte videoer. Kurset undervises på engelsk og kan afholdes både online og ansigt-til-ansigt.