Ny version Oxygen Forensic® Detective V15.0
Oxygen har for nylig udgivet en større opdatering af Oxygen Forensic® Detective.
Oxygen Forensics® Detective er specialiseret forensic software til læsning af mobile enheder (såsom telefoner og tablets) både i skyen og på selve enheden.
Med den nye version af denne avancerede software kan du:
Omgå låseskærme på Xiaomi-enheder.
Udfør Android Keystore-udtrækninger på Qualcomm-baserede Huawei-enheder.
Udtræk data til stede i Kit Messenger ved hjælp af Android Agent.
Parse semantisk placeringshistorik fra Google Takeout.
Implementer nye værktøjer til at analysere Call Data Records (CDR).
Brug den forbedrede ansigtskategorisering.
I denne artikel beskriver vi nogle af højdepunkterne i udgivelsen.
Omgå låseskærme på Xiaomi-enheder
Understøttelse af Xiaomi-enheder i Oxygen Forensic® Detective er blevet yderligere udvidet med understøttelse af to nye MTK-chipsæt. Disse er Helio G88 og Helio G90T. Udvidelsen giver dig mulighed for at udtrække hardwarenøgler fra blandt andre Xiaomi Redmi 10 Prime 2022, Xiaomi Redmi 10 Global, Xiaomi Redmi 10 Prime og Xiaomi Redmi Note 8 Pro. Du kan derefter bruge disse til at få adgang til de data, der findes på enhederne.
Kit Messenger-udtræk via Android Agent
Ved at bruge Forensic Detective kan du nu også indsamle Kik Messenger-kontakter, private samtaler og gruppechat fra ulåste Android-enheder ved hjælp af Android Agent. Du kan installere denne Android Agent på en enhed via USB, Wi-Fi eller OTG-enhed. Når du er færdig med at indsamle dataene, kan du importere Android Agent-udtrækningen til Oxygen Forensic® Detective for at gennemgå og analysere dataene.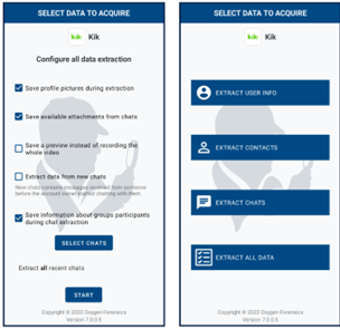 Sammenligning af opkalds- og beskedlogfiler med CDR
Inden for Oxygen Forensic® Detective er et nyt analyseværktøj nu tilgængeligt, der gør det muligt at sammenligne opkalds- og beskedlogfiler udtrukket fra en enhed med Call Data Records (CDR) leveret af mobiltjenesteudbydere. Et værktøj, der er af særlig værdi, når telefonopkald eller beskeder manuelt er blevet slettet fra en enhed. Ved at sammenligne dataene kan du identificere manglende data og tegne et mere komplet billede.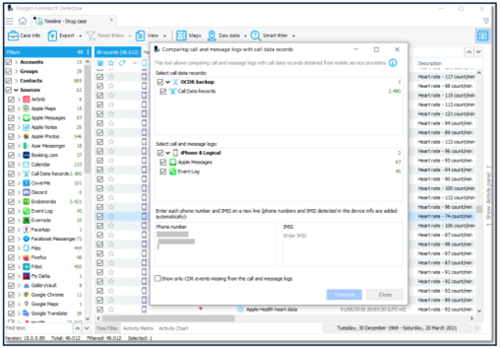 Mere information
Vil du se eller læse mere information om denne nye udgivelse? Så konsulter de to kilder nedenfor:
Vil du have flere oplysninger om Oxygen Forensic® Detective? Så kontakt os.