Cryptocurrency Investigations
Kryptovalutaer og blockchain udvikler sig i et hastigt tempo. Derfor er en investigating på dette område forbundet med mange muligheder og udfordringer. Men hvordan fungerer denne proces?
Under kurset i Cryptocurrency Efterforsknings lærer deltagerne alt om kryptovaluta og blockchain. De lærer at foretage efterforskninger fra forskellige perspektiver og med forskellige open source- og betalingsværktøjer. Efter kurset vil de være i stand til at spore en Bitcoin-transaktion, af-anonymisere brugere og meget mere. De vil også kunne aflægge rapport om deres resultater.
Hvem er dette kursus for?
Dette fire-dages kursus er velegnet til alle, der udfører blockchain- og kryptovaluta-efterforskning. Uddannelsen er velegnet til efterforskere i politiet og andre efterforsknings- og sikkerhedstjenester, tematiske analytikere, finansielle institutioner (CDD, KYC, AML), private efterforskere osv.
Hvad lærer du på kurset?
Ved afslutningen af dette kursus vil deltagerne have fået et indblik i de muligheder og udfordringer, der er forbundet med kryptovalutaer og blockchain. Deltagerne vil have opnået viden om alle (tekniske og sociale) aspekter af kryptovalutaer og blockchain. Når de har gennemført uddannelsen, vil de også være i stand til at udforske og analysere dem ved hjælp af open source-værktøjer og virtuelle maskiner.
Cryptocurrency badge
Når du har gennemført en Cryptocurrency uddannelse hos DataExpert, modtager du udover et diplom eller certifikat også et digitalt badge. Dette badge er let at integrere på sociale medieplatforme som LinkedIn og er knyttet til din profil gennem de nuværende metadata.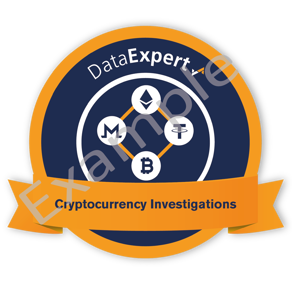 Kurset kan gennemføres på engelsk, både i klasseværelset og online. Desuden er uddannelserne modulopbygget, så det er muligt at sammensætte en skræddersyet uddannelse med tilhørende casuistik.